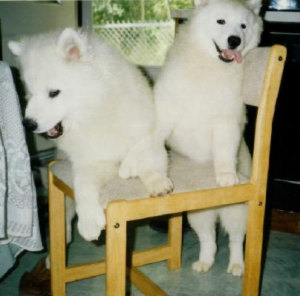 WHATCHA MAKING MOM?

Gee that looks, interesting.
Mom's hard at it in the kitchen.
Can I give you a little help?
I'll stand here so the fridge doesn't close.
Is that a steak?
Boy you can pass some of that over here.
Mom, don't you have to cut some off?
Good thing I'm cute.
Tasty but so little!
What about the fat Mom, got to watch the waistline.
Know that little piece over there.
Okay I'll be good.
Anything you say, you're the boss.
Besides who would argue with a woman with a knife?
Ooops, am I in the way?
Just standing by in case you drop something.
What's that you're making anyway?
Is that for me? Oh well I guess you can have some too.
Hey don't add too much barbecue sauce.
Want me to watch it for ya?
Okay guess you are better at this than me.
Boy it smells good. What else are we having?
Salad, well you can have most of that stuff.
Baked potatoes that sounds good, don't forget the sour cream.
I'm sorry didn't mean to get into your way.
You know the kitchen is pretty small.
Don't you think you should check the steak?
I'm so glad you think I'm a big help.
Oh boy, that is yummy looking.
She is ignoring me.
Well maybe if I sit a little closer.
Oooops! Sorry didn't mean to drool on your leg.
Yea Mom that piece looks good.
Not for you! For me!!!
Mom I thought I was your best friend.
Good girl, oh that is tasty.
Is that all?
Mom!!!
Maybe a little paw on her lap to remind her.
I'll try sitting up and begging.
Aw! Knew that would get to her.
She is such a push over for that one.
Well the pat on the head is nice but where is my steak?
Leave some for me will ya!
Sure I will clean up your plate.
Who needs a dishwasher with me around.
A bone too! Bonus!!
Mom is sure a great cook.
Cheryl C. Helynck
Whiteshadow Kennels 1997