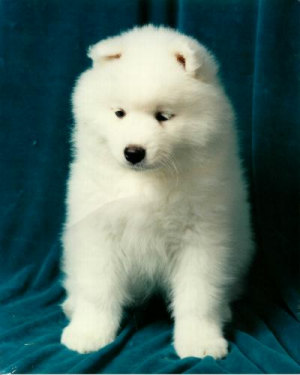 Do you have any puppies for sale?
We maintain a waiting list and will advise people of breedings when they occur, and the availability of puppies after they are born. Suitable new homes and owners are selected from this list for our puppies.
Are your dogs registered?
Yes, all our dogs are Canadian Kennel Club (CKC) registered. All our breeding dogs are Canadian champions and some are obedience titled as well.
How much are your puppies?
They start at $750. (US) for pet quality and go up in price for breeding and show quality.
What is the difference between pet and breeding or show quality puppies?
Very little, we raise quality animals, however some puppies show a better conformity to the breed standard and attitude for the show ring. All our dogs are ultimately family and pets first, their show and breeding life is secondary to them being part of our lives.
Are Samoyeds good with children?
Yes, we have placed many puppies in homes with infants, toddlers and young children. Samoyeds are very people oriented dogs, they adapt well to all ages and all life styles.
Do you ship your puppies?
Yes, we arrange the shipping of the puppies, ensure they have the necessary health certificates and shots in order to enter other countries. Shipping costs are the responsibility of the buyer.
How old are the puppies when they leave?
We keep the puppies until they are eight weeks old. Some circumstances may require that they be older due to the season of the year, availability of heated cargo space and country they are to be shipped.
Do you certify hips and eyes?
Yes, we provide in writing a guarantee that both are covered in the puppies we have bred to all purchasers.
What do I need to know about raising and owning a Samoyed?
Ask questions, research, read.. you are already in the process of learning more if you are reading this. Good breeders are always willing to answer questions and whether you decide to buy from us or another breeder make sure ALL your questions are answered to your satisfaction. Owning a dog is a lifetime commitment to the animal, it will alter your life in many ways, and these should be positive changes not negative ones. We are always available to our puppy owner staying in contact and following the progress of the puppy through the years, through cards, letters, photos, calls and visits. We look at the puppy owners as adoptive families and as such we develop strong relationships with these owners. We also
recommend reading Bob and Dolly Ward's book, The Complete Samoyed. They have been owners, breeders and judges of Samoyeds for many years and have a lot of good information in their book.
Do Samoyeds get along well with other animals?
Yes, but we will want to know what animals you own, their age and sex and we will advise as to whether you should be taking a male or female into your home.
Do Samoyeds shed a lot?
Samoyeds "blow" coat, this is a term for the seasonal loss of the soft undercoat. It generally occurs in spring and fall. It can come out in selected areas at a time, or all over. This is a time for making yourself comfortable and grooming your dog's undercoat out while you enjoy a movie or watch t.v. There is some coat loss during the rest of the year, but nothing compared to when they "blow".
Do Samoyeds do well in hot/cold climates?
Due to the double layer of coat, the long guard coat and the soft undercoat they do well in both climates. Their coats act as insulation, what keeps the cold out also keeps the hot out. They are bred and raised in both hot and cold climates. Their white coats also do not absorb the heat from the sun as do darker coats on other breeds of dogs.
What colors are they?
They are pure white, cream, or biscuit, or white with a little biscuit. They have brown eyes, blue eyes are a disqualification of the breed, and have black eye rims, noses, and black rims around their mouth.
Can they have brown noses?
Yes depending on the pigment the nose can be brown or become a "snow nose". A variety of things can affect the color of their nose, plastic or ceramic dishes will affect the color (we use stainless steel dishes), sun can affect the color and it can lighten in summer and darken in winter, some lines do not carry as much pigment as others and some will lighten with age, again depending on the lines.
Do they need a lot of room and exercise?
Samoyeds are very versatile, they can lead a very active life or become a couch potato. They need attention, in fact will demand it. We recommend that you have a secure fenced yard and that they be exercised regularly. They can live both outside and inside or a combination of the two.
Do your puppies come with shots?
Yes, they will have had their initial shots and be tattooed by the time they are ready to leave. Leaving in most cases just a booster and rabies shot to be done when they are sixteen weeks old and thereafter just yearly shots to maintain their level of immunity.
Can we come to see your dogs?
Yes, visitors are welcome and encouraged, we like to meet prospective owners when possible, answer questions and proudly show our family of Samoyeds. We only ask that you call first to arrange a meeting time so you are sure to find someone available to discuss the dogs with you.
How long have you owned and bred Samoyeds?
Over a decade, we have been involved in the world of Sams, growing to love them more with each passing year.
Do you ever refuse buyers?
Yes, we are very selective about the homes that our puppies are placed in, and prospective owners must meet our requirements, so we are certain that our puppies will have a quality life ahead of them to enjoy. We do not broker our puppies or consign them.
Will you help teach me what I need to know about Samoyeds so I can be a better owner?
YES!!!, we are more than willing to help you with answers to questions when they arise, demonstrate grooming, and share our knowledge. We want the puppy to be happy and healthy and a joy for you to own.
How and where are your puppies raised?
They are raised in our home, whelped in my own bedroom and they are maintained much as you would expect a human baby, flannelette sheets, play pens when they are a bit older and need some restraint etc. They stay in my bedroom for a purpose, I want to know when I sleep I will hear them if they are being laid on or hurt, also will check if they are too quiet. Each litter is like having new babies in the house, they are given 100% attention, loads of love and socialization.
Can I select my own puppy?
No, we have the advantage of knowing the puppies, and from experience choose and place the puppies based on the information we have about you and your lifestyle and the puppy's own personality and confirmation.
Do we get to name the puppy?
Yes, the registered name will be Whiteshadow's..... and your selection. You will need to submit three selections, and these will have to be approved by CKC. The total name including Whiteshadow's.. all spaces etc., may not exceed 30 letters.
Where did you get your kennel name?
White as the dogs are all white and shadow as wherever you go they are there like a shadow. Turn around quickly and you will trip over one of them.
Do you board puppies you have bred?
Yes, we often board puppies we have bred for our puppy owners that are close to us locally.
Will you take the dog back if something happens in my life that makes it impossible to keep the dog?
We have on the rare occasion taken back a dog, or helped to relocate it in another home. We are listed in Wills for example if the owner should die and there is no one to care for the dog. We will not abandon our puppies, their care, health, and happiness is our concern for their entire lives. This is our commitment to our babies! We also try where possible to help relocate and place other Samoyeds that are rescued and need a new home.
Do you have a contract?
We use an agreement versus a contract. They vary slightly depending on whether the dog is sold for pet, breeding or show. It essentially guarantees the health of the animal and asks that the buyer provide adequate care and medical attention for their new family member. We back the animals we breed in writing, our concern being the same as yours that you want a healthy animal to purchase and we want that animal to remain the same.
Click on the bullet to see a sample agreement.

I own a Samoyed and I don't want another yet but I have some questions. Would you help me?
Yes, by all means, we will try to offer any assistance we can to help you enjoy the Samoyed you presently own.