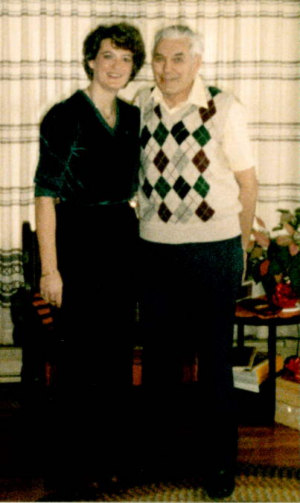 DAD WHY DON'T YOU COME HOME?

Dad I really miss you, why don't you come home?
Mom goes out every day and you never come back with her.
Dad I get so lonely, you never have been gone for so long before.
Remember Dad, the fun we used to have?
Dad I wait for you everyday, I watch the house for Mom,
Nobody is going to get in here and hurt her I promise.
No one is going to rob you blind.
Dad I don't understand, what could you be doing?
Dad I still get my bologna and Mom cuts the marrow out of the bones,
But it is not the same, this is what you and I did everyday.
Dad I miss you saying, "Chief, you are a good boy!"
We used to go for a walk each day and get the mail.
Dad did I do something wrong?
I just don't understand why you are not here.
Mom cries a lot these days, and she does not make many meals,
Lots of people seem to be calling and dropping by to see us.
But Dad it is just not the same without you, could you please come home?
Mom lets me sleep on your side of the bed and I keep it warm for you.
She holds me tight and tells me I am a big comfort to her now,
Will life ever be the same if you don't return?
I wish I could see you, where ever you are.
I would be so good, I would sit quietly beside you.
I would even let you have the couch all to yourself,
Dad just please come home!
Dad I have been thinking about this for a very long time now,
I am sure you would be with us if you could.
I know you, we are real good buddies, and you would not let us down,
Dad this is so unlike you and it doesn't make sense.
I suppose Mom will have to groom me.
She doesn't like doing my nails, but I will be good for her.
Mom seems to be doing a lot of the things you used to do,
We don't watch much T.V. any more!
I notice Mom moves a lot slower theses days,
Dad I think she is very tired.
I try not to make too much mess so that she had to clean up after me.
But my hair Dad, it still sticks to your chair the way it used to.
I don't care if it takes forever, I will wait for you,
I love you and miss you and will be here when you return.
Dad please pat me again and scratch my ears,
Love me like you always have.
Dad, if you can hear me, please come home!

Dedicated to my father, Warren Rosco Mizener (1921 - 1997)


who in the summer of 1997 found that his big heart was no
longer able to keep him going. He had given too much of it
to others all his life.
All of us who were touched by your love and kindness
will carry you now in our hearts, Dad.

Cheryl C. Helynck
Whiteshadow Kennels 1997