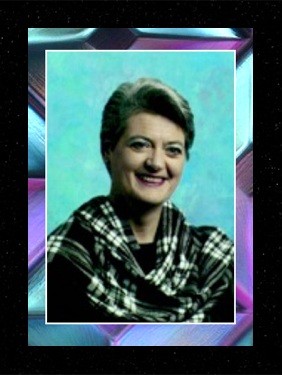 DEDICATED TO THE SAMOYEDS
RAISED, BRED, OWNED AND LOVED AT
WHITESHADOW KENNELS

It was June, 1987 when we brought home our first Samoyed, Ch. Krystaldawn's Sambuca. Little did we know at that time how she would change our lives. All we knew was she was the most adorable white fluffy puppy. I was no stranger to the joys of being a pet owner having owned and lived around animals all my life. I had wanted a Sam from the time I had seen my Aunt Kaye's (Kaycee), Samoyed, Lorilei. Aunt Kaye had sent me pictures years before that I still have because I thought these pictures were the cutest puppy pictures I had ever seen.
Sambuca was a gift to my children in 1987, Trevor then age 11 and Tracy age 9, for passing that year's school term. I thought they were ready for the responsibility of a puppy. If the truth be known, I had been nagged into getting her after my daughter persisted in walking around the house with a leash and collar with no dog attached. I agreed that we would get a puppy, but of my choice. We visited dog shows and talked to breeders, but I could not get the image of my Aunt's Sams out of my head or heart.
So the decision to purchase a Samoyed was made. Then came the task of locating a puppy. This was to be our first purebred dog and again we were in for a surprise. Through the years, Sue Rosenthal has become a good friend, but to be frank, when I first met her I thought she was a bit, well let's say fanatical about her dogs. To make a long story short she thoroughly examined our motives and consented to sell one of her puppies to us with certain conditions. These conditions I have since have applied to all our puppy buyers, like hips and eyes certified, championship prior to breeding etc.
Sambuca was everything and more we had hoped for in a dog, she was playful, gentle, friendly, outgoing, beautiful and we thought she was simply the best dog in the world. This opinion is one thing that has not changed in the nearly eleven years we have owned her. We thought we might try dog shows as a family activity. We made all the beginner mistakes but finally had a dog with a Canadian championship title. Next we thought we would like to have a litter from Sambuca and the learning process continued. Selecting a suitable mate, awaiting the arrival of the puppies, matching puppies with buyers and so on.
By 1992 we had six Sams living in Leduc, where city by-laws allowed only two dogs. We got away with it by licensing the dogs under the neighbors names, and only letting out a couple dogs at a time. After all one white dog looks like another right. Finally we decided the Sams needed more room and a proper kennel facility. So into debt the family went in order to give them the home they now have and the spending has never stopped. We jokingly tell people we live here and the dogs give us permission to do so. Will it ever stop, I hope not. These animals have brought more into our lives than anything else that I can think of for comparison. I never sleep-in mornings, and spend time in the yard everyday, "panning for gold" as I call cleaning up their kennel. I get blisters on my hands from grooming, and we have given up count on the number of items lost to the teeth of young dogs and puppies. But if asked if I would give them up the answer is a definite NO.
Although each dog has an individual personality, consistent is the affectionate, gentle, playful nature of this breed of dog. Have a good day, they are there for you, have a bad day they are not only at your side but they can bring a smile to a tearful face. I love to feel their wonderful thick coats, and they nag you by putting their heads under your hand or feet on your lap for attention. Get busy and ignore them for awhile, they do not hold a grudge they will be ready when you are. Want a companion to go for a ride or a walk, some one, two or a dozen are up for it.
I grew up on a farm and have always loved and respected animals but forever there will be a spot in my heart for a Sam. I feel I have come into a closer contact with and understanding of their world and hence the following writings were made with them in mind. I believe Samoyeds are like rainbows, God gave them to us as a sign to believe in the good things that they have to offer the world. No one cries when they see a rainbow and no one is sad for long if they own a Sam.

Cheryl C. Helynck
Whiteshadow Kennels 1998





This book and its contents are copywrited
no reproduction by any means is authorized
without written consent obtained from the author.