Blue Diamond
ART AND PHOTOGRAPHY CREDITS
In creating the work Blue Diamond I have searched the net and had others supply me with some of the images, graphics and backgrounds that I felt added to my writings. They have come from a hundreds of locations many of which I will never be able to acknowledge. I can only offer my thanks to all those that have added to the value of the internet with their art and photography. If I have used an image that originated from your site please contact me and I will gladly add you to the list of credits.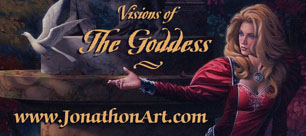 Jonathon Earl Browser
The art work of this Canadian artist is one of the most outstanding and inspiring that I have ever seen. A truly remarkable collection of original work that is a venture into the mystic and beauty of women and nature as seen through this his eyes and captured in his paintings.

Andrew Annenberg
Andrew Annenberg lives on the island of Maui and displays his love of the tropics in his art with vibrant colors. His work often referred to as "visionary realism". The realism in his underwater imagery stems in part from his keen interest in skin-diving off the waters of Maui. Much of his artistic inspiration comes from the Lemurian feeling of the Hawaiian islands, his enchantment with the tropical version of paradise, as well as his fascination with the primal, the archetypal, the mythological, and the ancient civilizations of Egypt, Greece, and Atlantis. His art work is distributed through his own company - Annenberg Masterworks
David Fortney
David is the high Master of Visionary Nature films and Nature video. Shooting the most beautiful nature footage, topped off blending his various nature footage together to create tremendously beautiful special effects just from the nature shots. His nature videos have won innumerable awards internationally.
Garret Moore
Garret lives in the Silicon Valley area of California. He has successfully made the "migration" from painting on canvas to painting electronically. His cosmic imagery is filled with much hidden meaning, and all his work is love-centered.
Gilbert Williams
Gilbert Williams is one of the most widely known visionary artists, his bountiful images giving "glimpses" of higher dimensional worlds and magical beings.
Jean-Luc Bozzoli
Jean-Luc Bozzoli, born in France and living mostly in Hawaii, is an intriguing "visionary" in that he is artistically exploring realms where no one has gone before. The still art displays examples of his work that only touches on the poetry in motion of his videos. These computer-generated images gives us a glimpse into the magical realms of his imagination, and display his fascination with dolphins and sacred geometry.
Karl Bang
Karl Bang's collection of art masterpieces could easily be called Goddess Central. Karl was born as Bong Ka in Shanghai in 1935. He was formally trained by the master artists of Chinese painting and he also formally trained in the European painting tradition in France and Belgium. These multiple styles led to Karl Bang's multi-cultural blending of the traditional Chinese artistic discipline with the more personally expressive European style, and later also included traditions from around the entire globe. This cross-cultural fusion of styles has earned him the title of "Master of Contemporary Eclecticism".
During Mao Tse-tung's Cultural Revolution in China, Karl was obligated to paint only the propaganda images the government demanded him to paint. However, in 1984 he was allowed to emigrate to the United States, where Karl was free to paint his one heart's passion - beautiful women, goddesses, and the feminine archetype - from various races and cultures. This central theme to all of Karl Bang's work is exquisitely developed and refined in each of his images. For Karl, painting women goes much deeper than their outer beauty. He sees women as epitomizing the gentler instincts of humankind - nurturing, gentility, truth, and inner strength.
Ken Jenkins
Ken Jenkins is the "high priest" of visionary videos, focusing on giving people beautiful "warm" visual patterns created optically or in video, and then "served" on a video platter. His intention is to offer people an "organic" type of changing beauty patterns - as an alternative to the types of "sharp line" patterns typical of computer graphics.