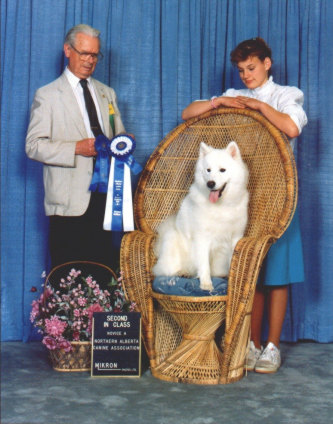 CH. WHITESHADOW'S WHISKEY C.D.
CALL NAME: WHISKEY
DATE OF BIRTH: October 2, 1989
Died June 7, 2004 I was there the moment you were conceived, the moment you took your first breath of air and the moment you took your last breath. Thank you for all those precious moments in between you will never be forgotten.
Whiskey was the leader of the Whiteshadow Kennel family after the death of Sambuca. Like her Mother, Sambuca she too has produced some of top Samoyed puppies in Canada. She was our watchdog...always first to insure that visitors are quality inspected and then welcomed. She retired from the breeding program and supervised the rest of the pack until her death.
AM. CH. KISKAS KARAHOLME CHEROKEE

AM. CH. ICE WAY'S ICE BREAKER

AM. CH. ICE WAY'S ICECUBE

CAN./AM. CH. ORENOPAC'S CHAENA

CH. SILVER CHANT OF TRIARCTICA
CH. TRIARCTICA'S ZARINA MIST

CH. JASAM'S SNOWMIST OF TRIARCTICA C.D.

CAN./AM. CH. ORENOPAC'S MOGUL C.D.

CAN./AM. CH. PINEHILL'S BJELKIER RURIK

CH. ORENOPAC'S BJELKIER EAGLE

CH. TRIARCTICA'S KRYSTAL ZAHRA C.D.

ORENOPAC'S EVERY BOY'S DREAM

TRIARCTICA'S YARO KIMBA C.D.

CH. ORENOPAC'S LADY ATHENA

CH. TRIARCTICA'S ZARINA MIST

.

CAN./AM. CH. ORENOPAC'S CHAENA

CH. ENGLISH LANE'S SNOW HAWK

ORENOPAC'S BJELKIER'S TOO-CHA

CH. MOUNTAIGA'S DIXIELAND JAZZ

CH. SNO 'N SHO'S MOUNTAINEER

CH. MOUNTAIGA'S MARIYA ZOYA

SHEBASKA'S MOUNTAIN WILLOW

CH. SILVER CHANT OF TRIARCTICA

CH. TRIARCTICA'S ZAMERIC CHIEF

CH. JASAM'S SNOMIST OF TRIARCTICA C.D.

CH. TRIARCTICA'S TIARA TRISTEN

CH. GNOME'S TOPPER

CH. TRIARCTICA'S KARINA NATIKA

CH. TRIARCTICA'S SPARKLEN 'N GLOW