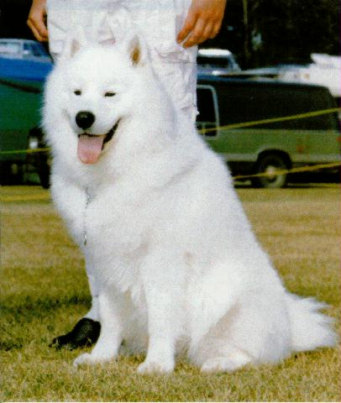 CH. TOKTOME'S TEQUILA C.D.
CALL NAME: TEQUILA
DATE OF BIRTH: December 29, 1988
My great white lion passed away December 7, 1999. Until we can snuggle again my old friend you are always in my heart.
Tequila is one of our foundation studs. He is truly a most affectionate and loving dog. A big boy that has sired many champions.
AM. CH. ROKANKI OF DRAYELENE

AM. CH. NACHALNIK OF DRAYELENE

DRAYELENE'S CLARISSE

CH. SILVER CHANT OF TRIARCTICA

PINEHILL'S GALLANT CAVALIER
DONER'S FROSTED DAME

NIK'S CHANT OF MIST

CH. TRIARCTICA'S ZAMERIC CHIEF

AM./CAN. CH. SHALOON OF DRAYELENE

AM. CH. PINEHILL'S COMMANDER

PINEHILL'S KIANN OF TOGWOFEE

CH. JASAM'S SNOMIST OF TRIARCTIA C.D.

AM./CAN. CH. PINEHILL'S BJELKIER RURIK

AM. CH. ELSAMJOS SASHA OF RURIK C.D.

ELSOMJOS LADY CASSEEA

.

AM. CH. MARCLIFF'S STORMY OF SNOWKING

SNOWKING SHAGGYBEAR

AM. CH. REIN'S LADY OF SILVER SNOW

SILVERACRES GAMMA RAY

SILVERACRES NACHALNIK

SILVERACRES'S CUSTOM MADE BY JINI

AM. CH. SILVERACRES JINNI OF FROSTFIRE

CH. TRIARCTICA'S COTTON CANDY C.D.

AM. CH. PINEHILL'S COMMANDER

AM./CAN. CH. JASAM'S HUGGY BEAR AT TANZER

AM./CAN. CH. ELSAMJO'S SASHA OF RURIK C.D.

CH. TRIARCTICA'S RUFFLES 'N LACE C.D.

AM. CH. PINEHILL'S BJELKIER RURIK

TRIARCTICA'S SPARKLING AMIEE

CH. TRIARCTICA'S SPARKLING SHERRY