PHOTOS TAKEN APRIL 4, 1998 THANKS PAUL!!!
IF YOU ARE LOOKING FOR THE PERFECT STACK OR SIT - FORGET IT!!! THESE GUYS WERE ON THE RUN THE WHOLE TIME
NO.1 FEMALE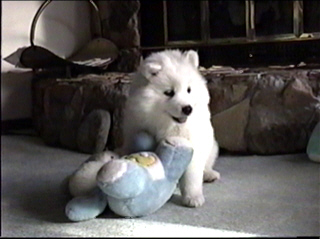 WHITESHADOW'S SILVER CLOUD??? (MAYBE)
WE HAVE NOT DECIDED A NAME FOR HER
NO.2 MALE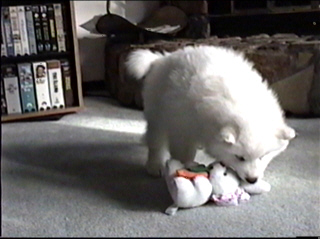 WHITESHADOW'S MAZEL
NEW OWNER ROBERT SPRINGER, TUCSON, AZ.
NO. 3 MALE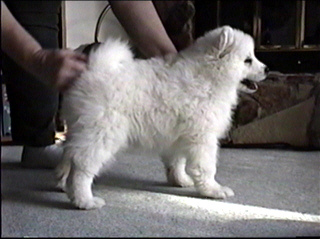 WHITESHADOW'S VANYR O AELFHEIM
NEW OWNER RILLAN ANTHONY, BELLEFONTE, PA. ARRIVED APRIL 8TH SAFELY TO HIS NEW HOME THANKS ANDREA FOR THE LONG DRIVE TO PICK BOTH PUPPIES UP!!!
NO.4 MALE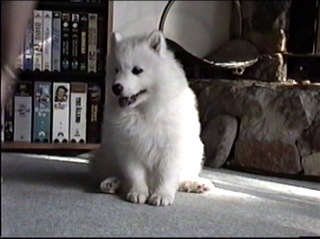 WHITESHADOW'S KENOME
NEW OWNER FRANK , COCHRANE, ALBERTA
NO.5 FEMALE
WHITESHADOW'S MACKENZIE
NEW OWNER, ANDREA SMITH, HOWARD, PA. MACKENZIE WAS IN THE ARMS OF HER NEW OWNER APRIL 7TH AND THEY TOOK THE LONG DRIVE FROM TORONTO AIRPORT TO PENNSYLVANIA WITH NO. 3 - VAN
NO.6 FEMALE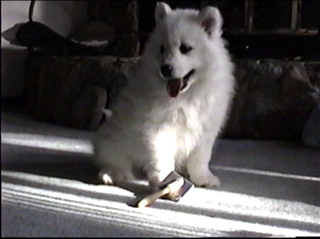 WHITESHADOW'S ANGELIC RACHELLE
NEW OWNER, DAN SKYRPAN, MORINVILLE, AB.
NO.7 MALE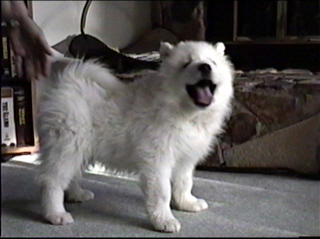 WHITESHADOW'S MR. ROLLY WRAGGE
NEW OWNER, DAVE WILLS, CANMORE, ALBERTA
NO.8 MALE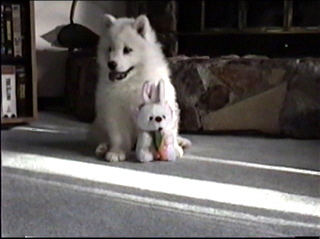 WHITESHADOW'S ??? (TO BE DETERMINED)
NEW OWNER, DAWN HORTE, GRANDE PRAIRIE, AB.
MORE CANDID PHOTOS - COME JOIN THEM
A dear friend sent this to me and wanted to share it with you. Thank you Dale.
"A ray of sunshine lies apon your face, when the morning sun cast against your skin..................one can only think about how lovely you could be.
When the sun sets for the evening hour, as yourself image is just a shadow now. One can only dream of knowing who was in the Shadow." Dale DeCamp