WHITESHADOW KENNELS AWARD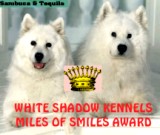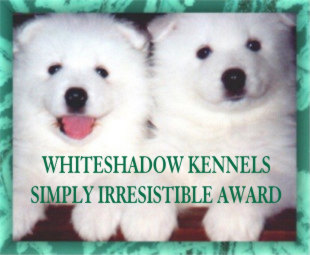 AWARD VERSION 1 AWARD VERSION 2 AWARD VERSION 3
OUR HIGHEST AWARD GIVEN TO TRULY OUTSTANDING SITES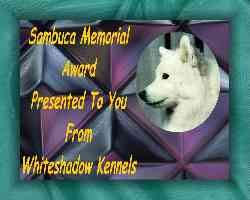 I have decided to give an award to those sites that represent safe surfing, whose content is creative, innovative, and displays an effort in design and content that enhances the internet!
Your home page must not contain nudity, profanity, or racism - and be able to be viewed by the whole family.
Special consideration will be given to those sites that show humanitarian interests, consideration and love for animals, humor and unique personal contributions. Canadian content for those sites in Canada will also be awarded for their display of national pride in our beautiful country.
To be considered for this award you also must first sign my guest book and leave your complete email and URL address, and upon receipt of your award link this award back to my web site at:
I will look at each site and the Winners will be listed on the Award Winners Page, and notified by email within a few days. If you think you qualify for this award please fill out the following form or submit by email with subject line reading "Award Form" to:
AWARD FORM

VIEW MILES OF SMILES WINNERS!!