THEN FORGET TOY AND ATTACK YUKI INSTEAD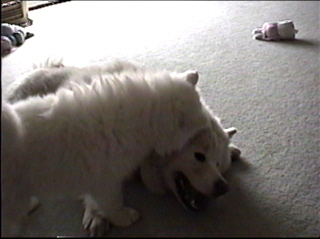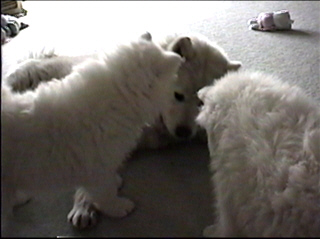 THEN CATCH ME IF YOU CAN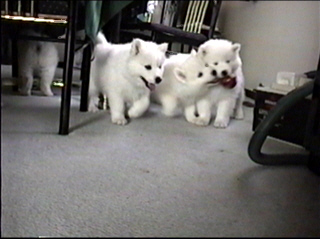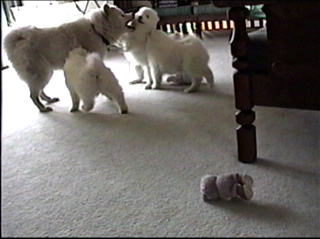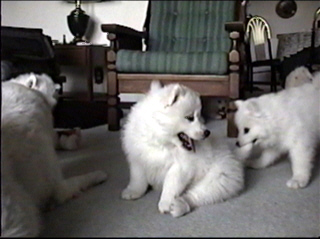 THEN THE PARADE OF FUTURE CHAMPIONS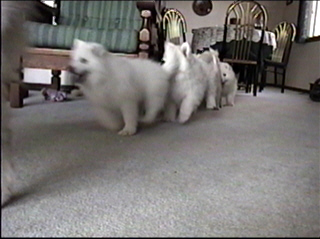 THEN OFF UNTIL WE MEET AGAIN.....BUSY ... BUSY.....THINGS TO DO.....PLACES TO BE..... WORLD TO EXPLORE!!!! THANKS FOR VISITING.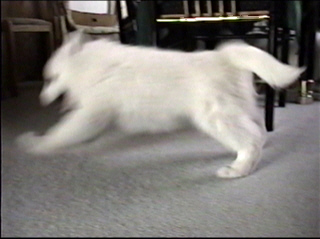 If you cannot see the video, click here
THE END
THE CAST: WHITESHADOW KENNEL PUPPIES
GUEST APPEARANCE: CH. WHITESHADOW'S
DREAM CATCHER (YUKI)
PRODUCERS: CH. CRISANDI'S WHITESHADOW CHI CHI AND CH. WHITESHADOW'S ASTI SPUMANTE
DIRECTOR: CHERYL C. HELYNCK
CAMERA MAN: PAUL RINTOUL
ASSISTANT CAMERA PERSON: DEB RINTOUL
HAIR BY: "SLICKER"
THIS IS A WHITESHADOW'S FILM PRODUCTION